IMGCA Certified Golf Psychology Certification Audios, Videos, Articles
The IMGCA Golf Psychology Certification Program is extensive. Students read in-depth, specialized golf psychology articles, listen to pre-recorded specialized IMGCA Golf Certification classes, view golf psychology videos, learn how to use assessments, and receive two hours of private one-on-one coaching time with Bill Cole, MS, MA, IMGCA Founder and President.

There are 48 in-depth and unique articles focusing on the various specialized areas within golf psychology, and mental game coaching. New articles are being added all the time.

There are eight specialized golf psychology audios with over eleven hours of class content. Listening times range from 1:03 to 37:36, with the average class length of about 68 minutes. New audios are added on a regular basis.

There are 59 specialized golf psychology videos with total viewing time of over five hours. New videos are posted on a regular basis.

There is a major proprietary IMGCA mental game assessment and one famous external stress management assessment to learn and to use.

In total, there is over 18 hours of written, audio and video content immediately available to students when they begin the program.
IMGCA Golf Psychology Certification Program Requirements
Out of the extensive archive of golf psychology content, IMGCA Golf Certification students will be required to complete the following:

Review and administer two required assessments.

Listen to four required core golf psychology audios and two required elective audios.

View 10 core golf videos and 10 other elective golf psychology videos of their choice.

Read 20 core golf articles and 10 other golf articles as electives of their choice.

The entire extensive private archive of specialized Golf Psychology Certification Program content is available to our IMGCA Golf Certification Program students 24-7, 365 days of the year once they register. This vast content is also available to them after they graduate.


Excerpts from Selected Testimonials For Bill Cole's Mental Game of Golf Coaching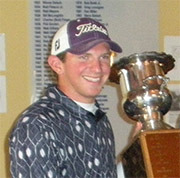 "Adam ended up in the winner's circle at a number of junior tournaments... Then, he ended his junior career by shooting his lowest competitive round ever, a 64, to win in his very last tournament...Most importantly, his attitude and on-course behavior seemed to improve considerably this past year...thanks for your coaching, wisdom, perseverance and friendship over the past several years. I'm sure your efforts paid off and had a lasting effect on his development as a player and a person."

–Mitch Loran
Father of college golfer Adam Loran USA

Read complete testimonial
"Bill has helped me so much with my mental game... Bill has given me many tips I can take out to the driving range, the course and tournaments. It's been really beneficial."

–Judy Ho
Nationally ranked Women's Golf Team
San Jose State University

Read complete testimonial

Read more testimonials