Bill Cole has been a leader in the learning and performance psychology aspects of tennis since the early 1970's when he was the first person in history to earn an undergraduate degree in sports psychology. In his distinguished career he has been an NCAA Division-I Head Tennis Coach at two west-coast universities, a Touring Coach on the ATP Tour, including Wimbledon, the US Open and Davis Cup, a USTA Intersectional Coach, taking his team to the Nationals at Kalamazoo, a competitor at the college, national level and professional level, a teaching professional, researcher, writer and speaker.

Bill has been the mental game coach or sports psychology consultant with athletes or coaches of 19 world and national teams, nine international and Olympic teams, 32 professional sports teams, associations or leagues, and of athletes who have won 36 world and national championships. He has been the mental game trainer for thousands of athletes, coaches and parents in over 100 sports, at all ages and skill levels.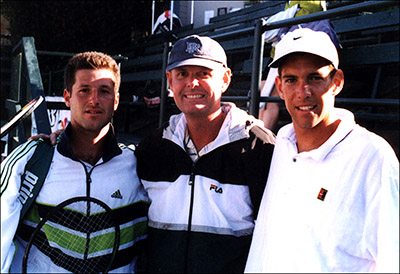 Bill Cole (center) pictured with Lior Mor (left) and Harel Levy (right), members of the Israeli Davis Cup Team. Bill was the Sport Psychology Coach for the team from 1999 to 2001. Harel had just defeated the legendary Michael Chang in the California Open to reach the finals. Harel went on to be ranked as high as #30 in the world, with wins over many of the biggest names in tennis: Pete Sampras, Marat Safin, Andy Roddick, Gustavo Kuerten and Tim Henman.

Bill has been the mental game coach to professional tennis players who have had wins over Roger Federer, Pete Sampras, Andy Roddick and Michael Chang. Wimbledon, The US Open, and Davis Cup are just a few of the major international events at which he has coached. A two-sport athlete at the national level, and a former tennis professional, Bill was inducted into the Buffalo Tennis Hall Of Fame for his accomplishments as a player and coach.
Bill's book The Mental Game of Tennis will be re-published, as a revised and updated edition, in 2019. This is the culmination of hundreds of interviews with world-class tennis pros, thousands of hours of coaching with players at all levels and countless hours of research into the sports psychology of tennis.
Bill is often hired by the coaching teams of top ATP and WTA pros to train them in his mental methodologies. One such player was top 10 in the world who has reached the finals of Wimbledon and the semi-finals of the French Open, with wins over Roger Federer and Novak Djokovic. Another WTA pro was top 4 in the world, reached the finals of the Australian Open and won the WTA Finals. Bill helped another ATP player move from number 185 in the world in doubles to the top five.
Bill has been sponsored by Wilson Racquet Sports for many years. In 2018 Bill was awarded with the Team Wilson USPTA GOLD STAFF Tennis Sponsorship. This is the highest sponsorship level worldwide in Wilson. In 1990 Bill was a founding member of the Intercollegiate Tennis Coaches Association (ITCA) Tennis Sport Psychology Committee.
Bill was the sport psychology advisor to the nationally-known pioneering Tennis Teaching "Tennis Tech" Program at Tyler College in Tyler, Texas for many years. In the 1980's Bill created, developed and presented the Zen Tennis High Performance Clinics. He also created, developed and presented The Concentration Clinic for tennis and The Concentration Clinic for golf.
In his long and distinguished career in the tennis industry, Bill held positions in virtually every imaginable aspect of the field. He taught at some of the world's most prestigious tennis clubs and resorts, including country clubs, international resorts, private tennis clubs, public facilities, colleges, camps, indoor clubs and university clubs. He founded and owned the Bill Cole Tennis School in Saratoga, California from 1984 until 2004.
Bill has been a leader in the tennis industry since the late 70's when he was the Co-Founder and Vice President of the Western New York Professional Tennis Teachers Association. In the early 1980's Bill helped prepare China's #1 woman pro, Hu Hna, to compete on the pro circuit and to play an exhibition against Martina Navratilova. In the 1980's Bill was a touring Coach on the National Junior Tournament Circuit. He was the Head Coach of the 1985 Northern California Boys 16 Intersectional Team that competed at the world Mecca of junior tennis, the Nationals at Kalamazoo. His junior players have gone on to achieve honors in collegiate play at Stanford, Duke, Harvard, Columbia, North Carolina, Georgia, UOP, Santa Clara, Indiana, Syracuse, Pepperdine and many other Division I, II, III and independent schools.
In 1985 The United States Professional Tennis Association designated Bill Pro-1 after an extensive, rigorous testing protocol. This is the highest tested rating in the nation. Currently this title has been changed to the Elite Rating, which Bill still holds. Bill was on the teaching staff and research staff of the Vic Braden World Headquarters in Coto De Caza, California in the early 1980's when Vic Braden was rated the second most visible celebrity in the tennis world. Arthur Ashe was #1.
Bill has played or conducted teaching clinics with famed professional players Steve Denton, Ilie Nastase, Tony Roche, Marty Reissen, Sherwood Stewart, Jimmy Arias, Luke Jensen, Scott Davis, Paul Annacone, Robert Van't Hoff, Jimmy Parker, Mati Timoninen, Rauno Suomenin, Charley Hoeveler, Peter Burwash and others. Bill was a clinician for the Siebel Men's Senior Pro Tour, which featured John McEnroe, Bjorn Borg, Jimmy Connors and other top stars. Bill's tennis students have earned hundreds of rankings, honors and tournament titles in every conceivable age level and division in multiple sections across the United States and internationally. He has coached seven National Champions.
Among Bill's client achievements:
Over 20 National and International Championships.
11 California State Championships.
34 United States National Rankings.
22 Top-Ten United States National Rankings.
32 #1 USTA Sectional Rankings.
70 Top-Ten USTA Sectional Rankings.
148 USTA Sectional Rankings in the East, Texas, Southern California and Northern California.
Coaching a player in winning the "Senior US National Championships Grand Slam", which was US National Mother-Daughter Championships on all four surfaces—grass, hard court, clay and indoor.
Bill was Tennis Coach to the Hollywood Stars in the 70's and 80's, teaching celebrities such as Bill Cosby, Chevy Chase, Andy Williams, The Fifth Dimension, Olympic Gold Medalist ice skater Peggy Fleming, and Gladys Knight and The Pips and other luminaries.