IMGCA Certified Tennis Psychology Certification Audios, Videos, Articles
The IMGCA Tennis Psychology Certification Program is extensive. Students read in-depth, specialized tennis psychology articles, listen to pre-recorded specialized IMGCA Tennis Certification classes, view tennis psychology videos, learn how to use assessments, and receive two hours of private one-on-one coaching time with Bill Cole, MS, MA, IMGCA Founder and President.

There are 44 in-depth and unique articles focusing on the various specialized areas within tennis psychology, and mental game coaching.

There are 21 specialized tennis psychology audios with over 31 hours of class content. Listening times range from 59:05 to 74:18, with the average class length of about 68 minutes.

There are 47 specialized tennis psychology videos with total viewing time of over 8 hours and 30 minutes.

There is a major proprietary IMGCA mental game assessment and one famous external stress management assessment to learn and to use.

In total, there is over 45-hours of written, audio and video content immediately available to students when they begin the program.
Program Requirements
Out of the extensive archive of tennis psychology content, IMGCA Tennis Certification students will be required to complete the following:

Review and administer two required assessments.

Listen to five required core tennis psychology audios and two required elective audios.

View 10 core tennis videos and 10 other elective tennis psychology videos of their choice.

Read 20 core tennis articles and 10 other tennis articles as electives of their choice.

The entire extensive private archive of specialized Tennis Psychology Certification Program content is available to our IMGCA Tennis Certification Program students 24-7, 365 days of the year once they register. This vast content is also available to them after they graduate.


Excerpts from Selected Testimonials For Bill Cole's Mental Game of Tennis Coaching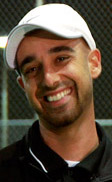 "Bill Cole is an expert in the Mental Game. His achievements as an international mind coach, top-level champion athlete, and his background in academic sports psychology and clinical psychology work are infused throughout this training. ... This certification will really help me gain more credibility and visibility in the tennis coaching and teaching world."
–Ashvin Soin
Director, Breakpoint Tennis Academy
USPTA Certified Tennis Professional
Saratoga, CA

Read complete testimonial

"Bill Cole…has greatly helped improve our players' mental game and has provided us with much support, guidance, insights and mental strategies to help us succeed.
Bill is a very talented and deeply-knowledgeable mental game coach. His ability to help our players stay motivated, focused and on-track is just excellent…Bill really takes the time to understand people, to listen and to figure out what each person needs to achieve and excel. He is a master mental game coach."
–Oded Jacob
Captain and Coach
Israeli Davis Cup Team

Read complete testimonial

Read more testimonials